Natural Product Synthesis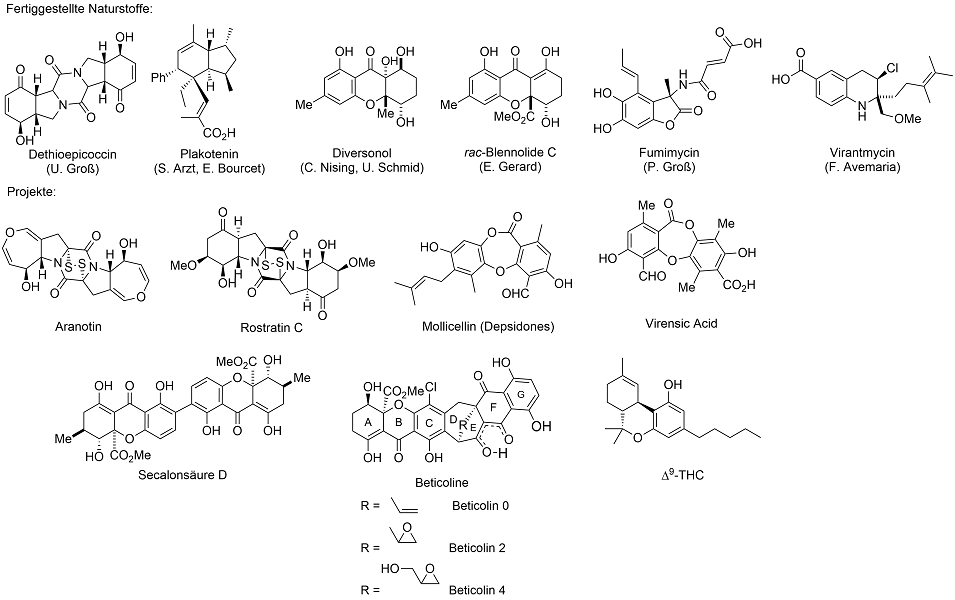 Aranotin
Aranotins belong to a group of mycotoxins with a central epithiodiketopiperazin unit. Aranotin (1a) itself was isolated from the fungus Aspergillus terreus, Acetylaranotin (1b) was additionally isolated from Arachniotus aureus. They show strong antiviral activity in vitro as well as in vivo, especially against polio- (type 1, 2 and 3), coxsackie- (A21), rhino- and parainfluenza viruses (type 1 and 3). The antiviral properties of the metabolites are of special interest for their inhibition of the virus-induced RNA-polymerase without inhibition of the deoxyribonucleic acid-based RNA-polymerase of mammals. Neither Aranotin nor any related dihydrooxepin natural product could be obtained by total synthesis so far.
Beticolin 0
Beticolins are mycotoxins isolated from the phytopathogen Cercospora beticola. Biological studies revealed a broad cytotoxic profile and the ability to dimerize to form non-specific ion channels in the lipid membrane of cells. For beticolin 0, the highly functionalized xanthone moiety is coupled to an anthraquinone derivative via a unique bicyclo[3.2.2]nonane ring system. To date no total synthesis has been reported.
Rostratin C
The rostratines A–D belong to the class of mycotoxines. The marine natural products with the epithiodiketopiperazin unit were isolated from the fungus Exerohilum rostratum close to Hawaii in 1997. In 2004 the structures of all four secondary metabolites could be elucidated. Their in vitro cytotoxicity against the human colorectal cancer of the cell line HCT-116 make them interesting as new lead structures for the natural product synthesis.
Secalonsäure D
The secalonic acids A-G were isolated for the first time from the ascomycotete Claviceps purpurea ("ergot") and show versatile biological activity, e.g. cytotoxicity and antibacterial properties. They were discovered more than 100 years ago, still no total synthesis of this compound class has been achieved until today.
Spiculoinsäure A
In 2004 the previously unknown polyketidic natural product spiculoic acid A was isolated from the Caribbean sponge Plakortis angulispiculatus (Carter) by Andersen et al. The structure and relative stereochemistry of the highly substituted hydrindane was elucidated by a combination of mass spectrometry and NMR studies. Further on the substance shows cytotoxic activity against the human breast cancer cell line MCF-7 (IC50 8 µg/ml), which makes it an interesting candidate for drug design.
Tetrahydrocannabinol-Δ9
This molecule recovered from the cannabis plant has, besides the well-known intoxicating effects, an analgesic effect. Therefore a new approach is based on the synthesis of analog compounds as effective painkillers.
Gorgosterol
Gorgosterol and a wide variety of other sterols are produced by dinoflagellates, including those in the genus Symbiodinium, the obligate intracellular symbionts of reef-building corals. To date the biological functions of gorgosterol and other sterols in this symbiosis are unknown; we hypothesize that they are transferred from the symbiont to the coral host where they may play an important role in lipid metabolism or steroid signaling. We aim to synthesize gorgosterol, potentially also with modifications, to assess its biological functions in symbiosis using the marine sea anemone Aiptasia, an emerging model system for corals.