Chemical biology, supramolecular systems and prebiotic chemistry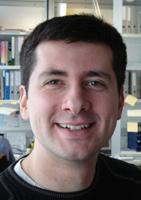 Group leader: Dr. Zbigniew L. Pianowski
Institut für Organische Chemie, room 409
tel.: +49 721 608-42297
e-mail: pianowski@kit.edu
Group members
Peter Gödtel received a Manchot Stiftung fellowship and commences his doctoral studies in our group as of February 2021. Welcome!
Group members
Heike Eckert, Maysun Naamnih and Sema Özyagan joined our group in February 2021 for their master thesis. Welcome!
Publications
Our manuscript "Fluorinated azobenzenes switchable with red light" was just accepted in "Chemistry - A European Journal" 2021:
Publications
Our work "Selective release of a potent anticancer agent from a supramolecular hydrogel using green light" has been printed in RSC Advances. Congratulations to all the authors!
https://doi.org/10.1039/D0RA08893E
RSC Adv., 2021,11, 8546-8551